June 2012 Newsletter: Sustainable Sanitation Works in Haiti
Dear friends and supporters,
As many of you know, Sasha, Bobo and Anthony have finally returned to Port-au-Prince safe and sound. The whole team met Bobo at the airport on Friday afternoon with dozens of Haitian flags and cheers. Our excitement was infectious and Bobo received hugs and good wishes from people who'd never even met him!
Bobo spent the weekend with his wife and young son in Milot before flying back to Port-au-Prince early Monday morning to help with the final preparations for the Sustainable Sanitation Conference, co-hosted by SOIL and UNICEF. We've been in such a frenzy the last few days, we've hardly had time to sleep, so forgive us for not writing sooner!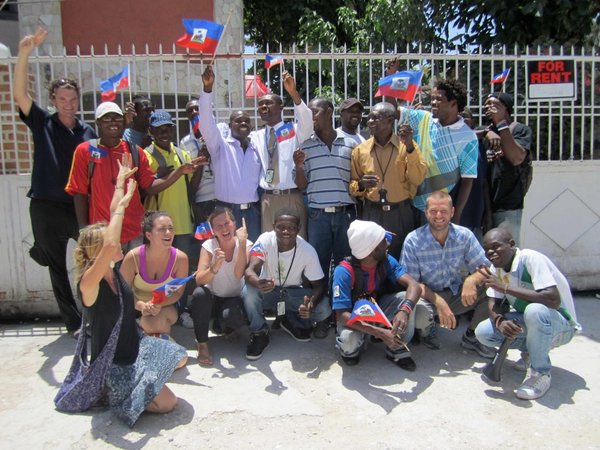 The conference, which began today, was full well ahead of the registration deadline; with over 150 people from over 50 organizations attending. The multilingual conference is the first of its kind in Haiti and we expect it will become an annual event as Haiti sets an international standard for what can be accomplished with sustainable sanitation solutions.
We're thrilled at the turnout today and we're exceptionally pleased to have the team back together! Thank you to everyone around the world who helped "Bring Bobo Back" – this day wouldn't have happened without your support.
Love from the Ritz-Kinam,
Corinne, Sasha, Nick, Bobo, Jean Marie, Jimmy, Monika, Molly and the entire SOIL staff
Read more:
Get involved:
Support SOIL projects directly – with no service fee – on National Geographic Take Action
Help us get the word out about sustainable sanitation solutions that work – join us on Twitter and Facebook @SOILHaiti
Join us in commemorating the victims of the January 12, 2010 earthquake in Haiti. Please consider making a monthly donation on the 12th of each month as a way of standing with the Haitian people to say, "we will never forget". Sign up for a recurring donation on the SOIL website at www.oursoil.org.
---