June 2014 Newsletter: Honoring Exploration
Dear friends and fellow explorers,
This is a special week in Washington as National Geographic celebrates the 2014 class of the Emerging Explorer's Program, which honored SOIL's work in 2011.  Following the example of National Geographic the SOIL team would like to use this month's newsletter to celebrate the explorer in all of us.  We are so proud to be part of a team that is pushing the limits of exploration, each in our own special way.
We gratefully acknowledge the work of the amazing Madame Bwa, our teacher and guide who shares her insights about the conditions faced by the communities we serve, and Jimmy Louis who is using his training in DNA extraction to help us study our smallest team members; the microbes in our compost piles.  We applaud the passion of Jean Delinoit, who is applying his experience in compost application to inspire and support local youth groups, and Romel Toussaint, who is now spending 6 months exploring ecological gardening in California in order to share his new-found knowledge with Haiti's farmers.  We are in awe of the courage of Baudeler Magloire, our Deputy Regional Director, who travelled to Benin in 2012 as part of a National Geographic funded project to help share SOIL's sanitation work with women's farming collectives.
We honor the work of each and every one of our team members whose compassion, energy and dedication are allowing us to realize our dream of transformation, from the small everyday victories to revolutionizing the way the world views waste.
Finally, we thank you, our supporters who span the spectrum of discovery.  Your love and support is the fuel that keeps us going.  You not only keep us afloat financially, you also provide us with inspiration and motivation by sharing your own knowledge and adventures with us through emails, visits and phone calls. Today, we send a shout out to the explorer in all of you!
With love from Haiti,
Sasha and the SOIL team of explorers
PS.  For those of your who are thinking of getting a special gift for Father's Day we wanted to let you know that if you do your shopping on Amazon Smile before June 15 they will donate an extra $5 to SOIL for your purchase.  Click here to get started.
June News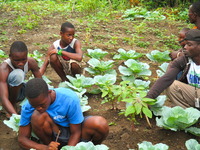 Spreading the Compost Love
Jean Delinoit works at SOIL as part of the agricultural team, helping to water the experimental gardens, take care of the animals, and working with the rest of the agriculture team on project implementation. He sees first-hand the benefits of SOIL compost in terms of soil amelioration and increases in food productivity.  Read more here about how he has been spreading his knowledge to his community.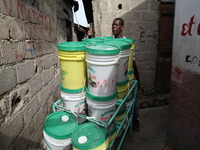 Sweating our Success
"Genius is one percent inspiration, ninety-nine percent perspiration." – Thomas Edison. SOIL's new business model for household sanitation is really taking off, but it is certainly not a cake walk.  Every day we are up against new challenges from from payment collection to availability of good carbon material for flushing. Read more about  how SOIL is transforming the way sanitation is provided in dense urban areas.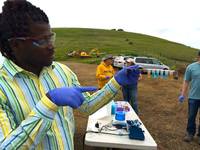 DNA Everywhere! (Or At Least from California to Haiti)
SOIL is proud to partner with the Carbon Cycle Institute and the Lawrence Berkeley National Laboratory in California to analyze our composting process using sophisticated DNA analysis techniques.  This past month SOIL's Jimmy Louis travelled to Califonia to exchange ideas about composting processes and DNA analysis techniques.  He is now back in Haiti putting his experience to use in the field.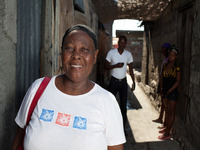 Our Ambasadris
Many of you will already be familiar with the incredible Madame Bwa, SOIL's Ambasador in northern Haiti.  Madame Bwa has been working in her community of Shada for 36 years delivering babies, providing lunches to children, distributing nutritional supplements and organizing with women and youth.  She is an inspiration to us all.  To learn more about this SOIL icon read this short essay.

We've Got the Fever
Many of you have read about the mosquito-born virus Chikungunya which has been sweeping Haiti.  While the name may be funny, the effects are no laughing matter. With more than 80% of the SOIL team affected, we are pleased to say that our work has continued, albeit with some achey bones.  Read more about how SOIL staff have triumphed over this new challenge.

Together We Plant for Change
May 18 is a very special holiday in Haiti, Haitian Flag Day.  SOIL celebrated the day by partnering with a local middle school to plant trees with students as a way to honor Haiti's rich history while investing in the country's future. Read more about how SOIL is working together with young leaders to plant the seeds of change and create shade for the future.
---