May 2014 Newsletter: The Best Time of Year
Dear friends, 
Last week was International Compost Awareness Week, but here at SOIL, the celebration continues!
From the rave reviews of sustainable agriculture educators ("There is no doubt in our minds about the positive effects on adding compost to enrich the soil in terms of healthy growth and increased production of vegetables… We continue to be impressed by what SOIL is doing and the impact it is making for the people in Haiti"), to a friend sharing photos of her new rooftop garden, and promising results from a compost testing lab, we're so excited about SOIL compost – and we're glad that others share our enthusiasm!
Whether you're buying compost here in Haiti, or donating to help us make more of it, we thank you for your support for SOIL's Konpos Lakay!
With love from Haiti,
SOIL
May News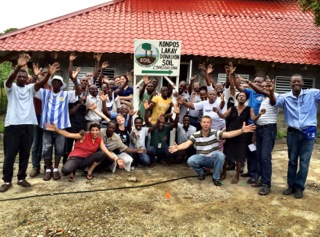 Spring Challenge Update
We are so grateful for your belief in the transformative power of SOIL's work in Haiti. Thanks to the overwhelming support from our friends around the world, the SOIL Spring Challenge was an incredible success. Stay posted for updates over the coming months as we get right to work expanding SOIL's sanitation services, planting more experimental gardens, increasing the capacity of our compost sites, and spreading ecological sanitation solutoins across Haiti. We did it!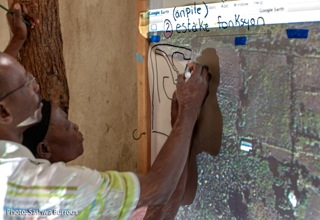 Permanent Agriculture / Permanent Culture / Lasting Impact
What is permaculture? As our friends at the Occidental Arts and Ecology Center explain: "The word itself is a contraction of 'permanent agriculture' and 'permanent culture'…  The aim is to create systems that are ecologically-sound and economically viable, which provide for their own needs, do not exploit or pollute, and are therefore sustainable in the long term." Read more about how SOIL is working towards these goals here in Haiti in partnership with the California-based OAEC.

SOIL and the American Red Cross Partner to Increase Sustainable Sanitation in Haiti
We're excited to announce that the American Red Cross is supporting SOIL's sanitation social business efforts in northern Haiti. With the support of the Red Cross, more people will be moving off the waitlist for SOIL's fee-based sanitation services as SOIL continues to work towards a sustainable solution to the sanitation crisis in Haiti.

SOIL Compost Testing Results
You may have noticed that here at SOIL, we love showing off pictures of our compost's efficacy – enormous heads of cabbage, piles of peppers, and more! These pictures may be worth a thousand words, but we also love hard data, so we recently sent off our compost to be tested by the soil and compost experts at Control Labs in California. Read on to see the exciting results!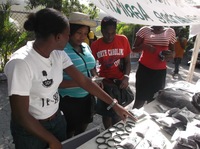 Celebrating May Day in Haiti
Haiti's Labor and Agriculture Day falls every year on the first of May. As two-thirds of Haitians farm, this holiday highlights the significance of agriculture to the structure of life here. Across the country people celebrate the bounty of the land and the rich diversity of crops grown here. Read on to find out why it's such a special time of year here, and how SOIL celebrated the special day!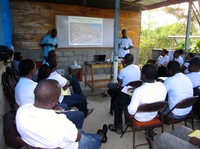 Upcoming EcoSan Training
SOIL conducts regular one-day workshops on SOIL's use of ecological sanitation (EcoSan) technology in Haiti. This workshop includes an overview of SOIL's programs, technologies used, lessons learned, and implementation suggestions. Find out more information and register here.
Join us:
Join us on Instagram, Facebook and Twitter and tell all your friends about us too!
Donate now:
SOIL is a small organization getting an incredible amount done on very little and your support means the world to us.
Please consider making a contribution today.
---